Cold cargo storage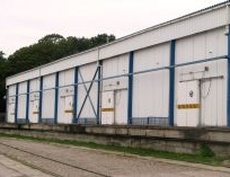 Liepaja Special Economic Zone Joint Stock Company "PIEMARE" is the only company in the port of Liepaja, which offers handling and storage of frozen products (fish, meat) and products that require special temperature conditions (fruits, vegetables). The company owns a modern cold storage. Its area is 930m² with a total capacity of ≈ 5000m³ (cubic meters).
Cold storage technical data:
Insulated panels - ceilings and walls made of prefabricated elements, in which as the insulating material polyurethane is used. The cover of external panels meet all European Community standards.
Freezer can maintain a temperature setting of +10 º C to - 28 ° C.
Cold storage has five separate cargo storage chambers. One chamber dimensions are 10.4m X 17.55m X 5m with a capacity of 910m³ (cubic meters).
The total quantity of cargo that can be stored in cold storage is up to 2000 tons of frozen products.

Reloading possible different combinations:
ship - a cold storage;
ship - rail ref. wagons;
ship – ref. trucks.
Quay length is 150 meters, the draft allowed 5.6 meters. Distance from the freezer to the dock line is about 25 meters. All is in the portal crane work area.